Business Strategies
FY3/2020 Main STRATEGIES
Progress of Main Strategy - Business Wear Business -
FY3/2019

FY3/2020

Reference
(Hundred million)

plan

result

Change from target

YOY

plan

YOY

Corporate
Partnership

Net Sales

125

135

+10

+25

155

+20

Increase the number of officers in charge of regional companies.(current number 31 ⇒plan to increase)
Expand Sales event (held in 78 companies ⇒targeting 120 companies)
Enhance education for the officers in charge of regional companies.

Number of partnership (company)

660

786

+126

+215

986

+220

Uniform

Net Sales

23

24

+1

+3

20

▲4

Strengthen the sales to companies near our stores.
Identify a major customer in bidding for a contract.
Focus on selling boy's school uniform, targeted on selling at 712 stores

Women's Wear

Net Sales

313

306

▲7

+6

312

+6

Expand product lineup for married women and elderly women.
Capture mother's demand
Issue 168 thousand of BR card (compared to planned number 168%)

EC &
Digital

Net Sales

28

27

▲1

+6

36

+9

Integrate EC system (Aoyama and TSC)
Develop the promotion for one to one

Net Sales of Digi labo store

6

6

0

+4

15

+9

Automation for customer service at Digi labo store (Chabot)
Improve the logistic system, utilize extensively in the existing store

TSC

Net Sales

258

244

▲14

+1

238

▲6

Expand the order business
Cultivate sales methods for customers in their 20's to 40's andstrategy for fashion coordinate of setup style such like Jacket and pants.

Inbound

Net Sales

18

17

▲1

+1

22

+4

Complete the registration of Tax Free shop in all stores.
Introduce China mobile payment sequentially (WeChat, Alipay)

Rental wear

Net Sales

2.4

2.4

0

+0.6

3.5

+1.1

Men's party Suits (Started from November 2018)
Women's party dress (Started from May 2019)
Progress of Main Strategies - Personnel, Innovation, etc. -
FY3/2019

FY3/2020

Specific Initiatives

Investment Amount

Change from Target

Target, etc.

Investment in personnel

Acquiring human resources
Increasing motivation Training, etc.

Improving pay and benefits

1,900 million yen/year

+200 million yen/year

-

Training for next-generation leaders and empowering women
Introducing Web-based internal newsletters
Implementing talent management system, etc.

80 million yen

-10 million yen

120 million yen

Investing in digital systems

Investing in information systems

Migrating to cloud
Upgrading to Windows 10
Replacing POS cash registers, etc.

40 million yen

-160 million yen

1,300 million yen

Digital strategy

Use of AI
Implementing new customer service terminals
Customer management system, etc.

370 million yen

-670 million yen

1,120 million yen

Investing in logistics

Renovating WMS

Building a strategic logistics
management system

10 million yen

-

260 million yen

Total

2,400 million yen

-840 million yen

2,800 million yen

Effective use of excess sites

Attracting tenants
Coin-operated parking

20 sites
(Income: 344M yen/year)

+5 sites

15 sites

Managing multiple stores in groups

Increase the number of stores to be managed in groups
97.2% of previous year's sales => Maintaining the same level at all stores

24 groups
48 stores

-26 groups
-52 stores

7 groups
14 stores
Reorganize in Light of Business Environment Changes
- BUSINESS WEAR BUSINESS -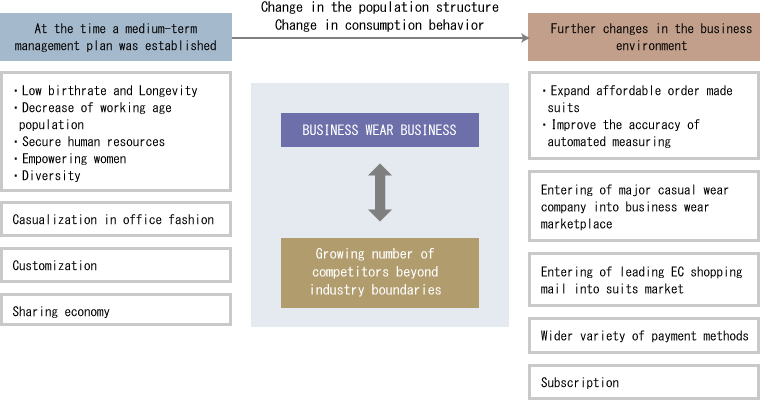 Due to casualization and customization ,etc. , the barriers to enter into business wear marketplace became lower and other industries' entry is increasing. It is indispensable to make the management system to be flexible in response to further changes in the business environment.
Specific Measures in Response to Environment Changes
- BUSINESS WEAR BUSINESS -
Change in Consumption Behavior・Other Industries' Entering
Environment
Changes

Specific Measures

Expand reasonable priced order-made suits
Automated measuring
Major EC mall's entry to suits market

Start to offer pattern order from the second half of year.(at all stores of TSC・Aoyama stores in part)
Increase Digi labo stores, the net sales of FY/2018 is 600 million.
3 stores in 2017 ⇒ 22 stores in 2018, expect more stores in this fiscal year
Custom order shops UL Measures continue to perform favorably.
3 stores in 2018 (the growth rate of existing stores YoY is 129.7%)
⇒ Plan to open 3 stores in 2019 (2 stores determined ), total number will be 6 stores

Casualization
Entering of major casual wear company into business wear marketplace

Expand "MorLes" the collaborative brand products under the supervision of BEAMS DESIGNE.
The growth rate of sales volume year on year in 2018 is 117%, strengthen to meet the customer's demand for Jacket and Pants.
"DESCENTE Suits" ⇒the collaborative products with DESCENTE LTD.
Increase the number of stores offering the products.(73⇒145 stores) and expand product diversity.
"URBAN SETTER"⇒Affordable brand products with high functionality for working people in 20's and 30's.
Increase number of stores offering the products (379⇒810 stores)

Sharing economy
Wider variety of payment methods

Expand the steady sales of the rental (Morning dress, Tuxedo)
Net sales is 180 million yen in 2017⇒240 million yen in 2018⇒350 million yen as the plan of 2019
Expand product lineup (Men's party suits, Women's party dress).
As the measures for inbound tourism, expand China mobile payment service
(WeChat, Alipay)
Plan to increase the stores offering the means of QR code payment sequentially.
Challenges Ahead in Light of Environment Changes
- Business Wear Business -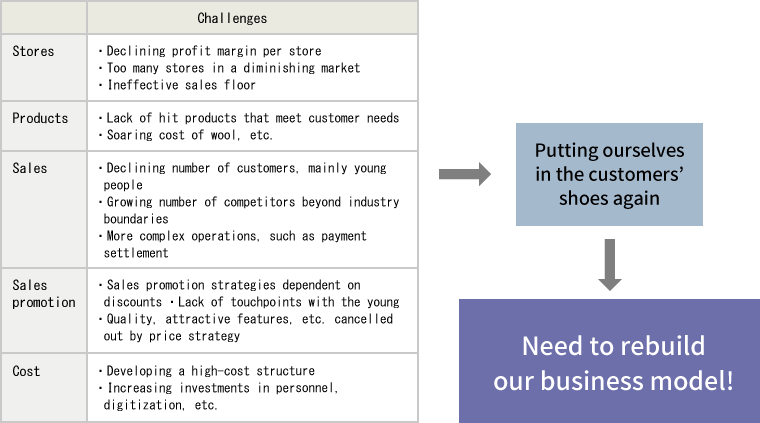 Toward Rebuilding Our Business Model - Business Wear Business -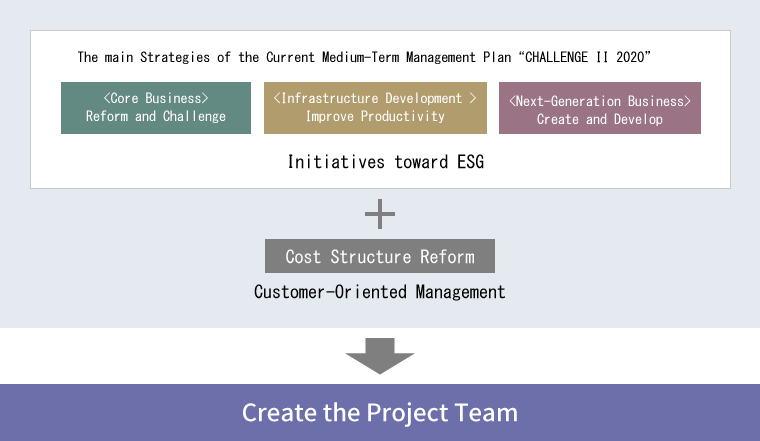 ‐ CASUAL WEAR BUSINESS - EAGLE RETAILING CORPORATION
SALES GROWTH RATIO YOY of EXISTING STORE
Business Performance

Due to the poor performance during Golden Week, etc. , the growth rate of existing stores year on year in the first half of year is 83.5% as well as continuing to decline till last year , while owing to reinforcing sales promotion of mainstay denim from the second half of year, sales got recovery to 97.9%.
(Full-year rate 89.8%, Compared to plan 86.8%). However, caused by the issues such as the gross profit margin's decrease by2.6% year on year and EC system's problems , operating loss is 1300 million yen (decrease by 500 million yen year on year, decrease by 1000 million yen compared to plan). In this fiscal year continuing to strengthen the sales of denim and reinforce digital sales promotion , aim to raise the purchase volume and customer attraction rate. Sales growth of existing stores, 101.7% year on year and decrease of deficit are targeted.
- TOTAL REPAIR SERVICE BUSINESS - MINIT ASIA PACIFIC
Performance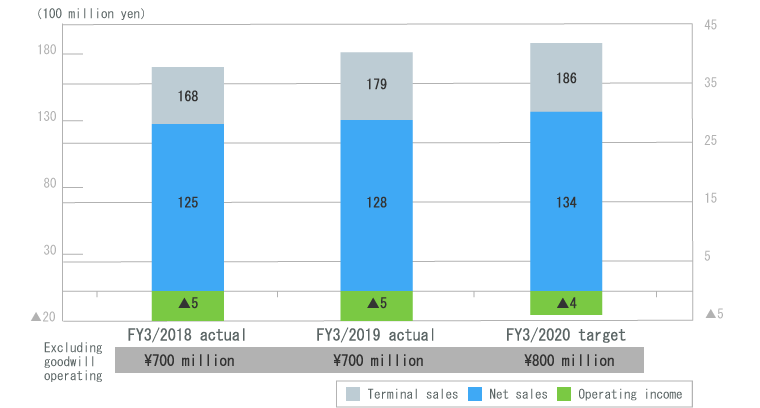 Overall, net sales totaled 12,800 million yen (up 300 million yen year on year but 600 million yen below target) while the segment posted an operating loss of 500 million yen (up 24 million yen year on year but 500 million yen below target).
These results are due to investments made earlier than planned as well as declining sales of women's shoe heels (92% of the previous year's figure) despite robust performance at the watch repair business, which is the segment's primary focus in Japan, as well as other operation.This fiscal year the segment plans to increase franchise stores through domestic partnerships while steadily expanding locations and services with an eye to increasing sales and profit at existing stores to 104.9% of the previous year's figures.
Challenges in Japan

FY3/2019 Results

FY3/2020 Initiatives

Shifting to service convenience store model
(Operations in Japan)

Focused on watch repairs, personal name stamp (hanko) services, etc.
(YoY => Watches: 154%, Hankos: 256%)

Focus on watch repairs and key duplication
(YoY => Watches: 130%, Keys: 120%)

Franchise partnership program

Started at 4 stores, achieved double-digit growth at existing stores

Added 9 stores in April, will increase to 20 in total
- MAIN INITIATIVED BY GROUP BUSINESS -
Segment

Main initiatives in the current FY

Credit Card Business

Promote the use of credit card by various campaigns and boost the volume of card shopping transactions.
Reinforce to acquire female customers by promoting blue card.

Printing and Media Business

Expand digital sales promotion and the orders of promotional materials
Develop new business of previous FY( Taxi Tablet business .,etc.)

Sundry Sales Business

Adjust inventory levels by utilizing automatic replenishment system
Introduce automatic change paying machine

Other

(Restaurant Business)

Plan to open 6 stores, main issues are to secure personnel ,educate employee and gain revenue of Yuzu-an
In addition to existing business, consider development of new business

(WTW)

Improve product composition in accordance with characteristics of each store and launch collaborative products
Sales growth by bridal gifts and housing planning

(Reuse Business)

Increase handling of clothes and accessories of target brand.
Cultivate female customers by handling items for kids and household's goods.