Business Wear Business
(As of the end of June 2021)
The Business Wear Business, centered on Yofuku-no-Aoyama, is our Group's core business, boasting the record of being No. 1 in sales in the menswear specialty store industry.
Main business and stores
Description of business
Including "Yofuku-no-Aoyama", the business run over 800stores across the country and continue to offer all worker "better products at lower prices". In 2016, women's apparel specialty store, and custom made store are opened newly for increase of the market share.
Net sales and Operationg income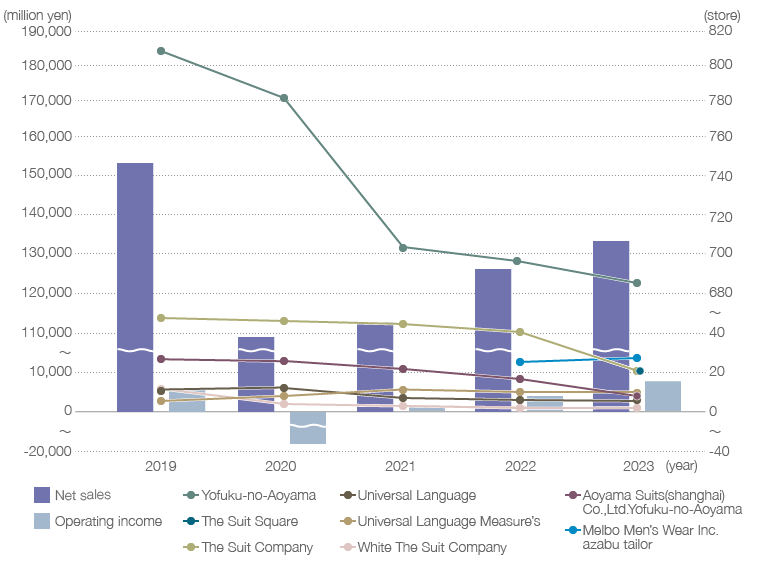 Number of stores opened and closed and stores at the end of the year of the suits business by each business format (As of the end of March 2021)
Name of business format
Yofuku-no-Aoyama
TSC
UL
UL MEASURE'S
WHITE TSC
Aoyama Suits
(Shanghai)
Co.,Ltd.
Yofuku-no-Aoyama
Total
Stores opened 〔of which, relocated and reconstructed〕
(From April to March)
0
2
0
1
0
0
3
Stores closed
(From April to March)
28
8
1
0
4
3
44
Number of stores at the end of the year
(At the end of March)
781
50
8
6
4
27
876
(Notes)

Numbers under The Suit Company include the number of TSC SPA OUTLET formats and the numbers under Universal Language include UL OUTLET formats.

TSC: THE SUIT COMPANY
WHITE TSC: WHITE THE SUIT COMPANY(specialty store of Ladieswear)
UL: UNIVERSAL LANGUAGE
UL MEASURE'S: UNIVERSAL LANGUAGE MEASURE'S(specialty store of custom order suits)