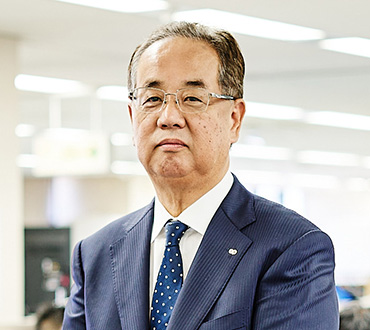 Issues to be addressed
The Aoyama Group's operating environment has been undergoing numerous structural changes, as characterized by a decline in the working-age population, a shrinking suit market due to a trend to a more casual office fashion and changing consumer behavior toward customization, showrooming and sharing. These changes have had a significant impact on the business wear business, which is at the core of the Group's operation.
Working in this harsh operating environment, Aoyama Group believes that reforming the business wear business, its core business, taking new challenges and creating and growing next generation businesses are crucial to sustaining growth as a company trusted by customers and works hard together to achieve the medium-term management plan "CHALLENGEⅡ2020", which ends in fiscal 2020.
The Aoyama Group formulated its medium-term management plan "CHALLENGE Ⅱ 2020" , which will enable us to build a foundation during this three years, focusing the vision that the Group aims to realize total Group sales of 400 billion and our core business' account for only 60% of our total operations in transition over 10 years..
However, the expansion of low priced order-made suits and entering of main casual wear company and leading EC shopping mall into suits market bring further changes in business environment. Under such circumstances we will implement the drastic reform with reorganizing measures and restructuring the business model to respond to business environment changes and intensifying competition. We also declared Group mission as《AOYAMA MIND: Engage with working people 》in previous fiscal year and employee's Principle as (1) Customer's Point of View(2) Bottom-up Approach(3) Pursuing Quality(4) Sense of Ownership (5) Spirit of Challenge (6) Fare & Square.
Going forward with Aoyama mind as our basic principles, we intend to implement the key strategies of current medium-term management plan 1, Reform the core business and Take on new challenges 2, Create and grow next-generation businesses 3,Develop infrastructure to improve productivity 4, Work on ESG initiatives, and to create a new growth track by taking advantage of the Aoyama Group's strength in Sales capabilities, Store development capabilities, Merchandise procurement capabilities, Pursuing quality, Customer base. By doing so, we will continue contributing to our customers, shareholders, business counterparties, employees and local communities.
We will appreciate our shareholders' further understanding and support.